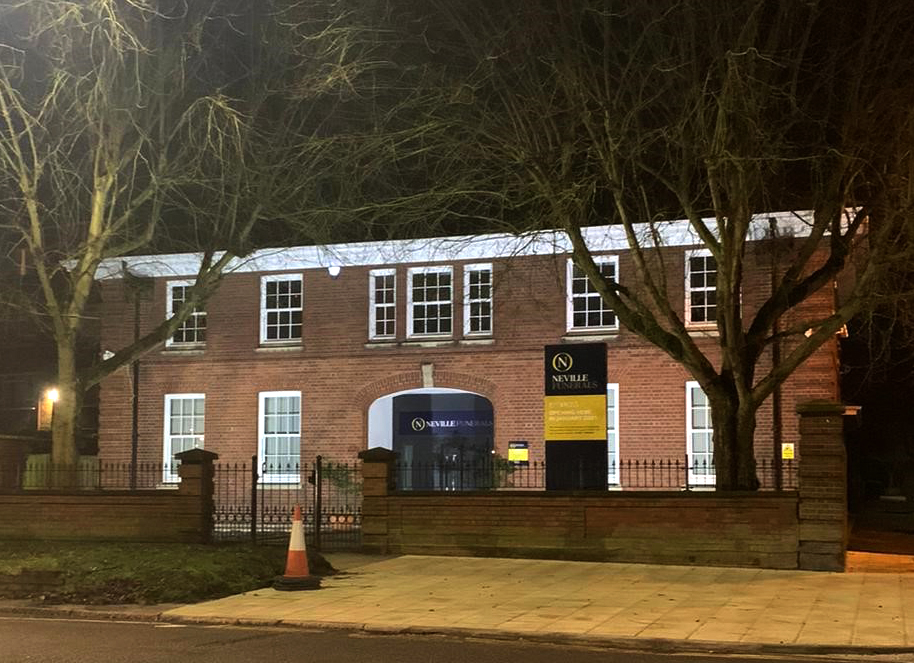 Neville Funerals is opening a new branch at Dunstable in January 2021. This will be our ninth branch to open in the Bedfordshire, Buckinghamshire and Hertfordshire region.
Neville Funerals had a presence in Dunstable, on West Street, back in the late 1960s, and we've been looking to return for some time, but finding the right property had to be delayed as the business focussed all resources and front-line staff on supporting its communities during the lockdown months of 2020.
In the end, it was just by chance that director, Vicky Trumper, was driving through the town and saw that Globe House, on High Street South, was available.
The property, which offers over 3,600 square feet of space, is an ideal setting for the business. Vicky explains: "Globe House is structurally in great shape and our alterations internally will ensure that there is a chapel of rest, mortuary space and arrangement rooms in place. For me particularly it's a little like coming home. When Globe House was a police station many years ago, my father, as a special constable was based there, and we lived on West Street, so the building and the town hold very special memories for me. It will be a pleasure to breathe new life into the place.
"Whilst we could not be more pleased to open our new branch at Dunstable, we are mindful that the last 12 months have been difficult for everyone, particularly for those that have lost loved ones during this pandemic and who have struggled without being able to hold the type and ceremony they would wish for. When we open our doors at the end of January, we will still have to follow strict lockdown guidelines so that our contact with clients in the first instance will have to be by phone, or email or video conferencing platform. But the team is now very experienced in such matters and very able to chat through options and offer advice."
James Witham, who has over 15 years' experience at Neville Funerals, is to be the new branch manager at Dunstable: "I am delighted to be taking up this new role – not least because Dunstable happens to be my hometown – but also because although we have been able to offer services to the town from other branches, we wanted to be more visibly available and closer to the people here. I and the team are already keen to make contact with local community groups and forums to see where we can offer our support.
"And, as soon as we are able, we hope to launch a local Talking Elephants group, which is our own free monthly bereavement support service, for those who would appreciate a friendly face and some support, and to meet for coffee and conversation. We'll release more news on that as soon as we can but it's always useful to follow our social media pages on Facebook and Twitter for the very latest updates."